LOVESAC
Lovesac is a specialty furniture brand named after its original DurafoamTM-filled beanbags called Sacs. However, Lovesac has become more known for its proprietary platform called Sactionals – a couch that's washable, changeable, reconfigurable, and FedEx-shippable. Founder and CEO, Shawn Nelson's, "Designed for LifeTM" philosophy emphasizes sustainable products that are built to last a lifetime, providing long-term utility and reducing the amount of furniture discarded into landfills.
Up to 30% Off Sactionals
Stack more, save more! Shop in store and get up to 30% off Sactionals. Up to 30% off Sactionals: Save 15% on Sactionals Inserts + Covers on a single ...
25% Off All Accessories
Accessorize for Total Comfort! Shop in store and get 25% off all accessories. Excludes Sac Covers, Sactionals Covers, and Clearance items. Offer appl...
Our Newest Throw Pillows
At Lovesac, we think that even your accent pieces should be able to change with the seasons. That's why our Throw Pillows have changeable covers, givi...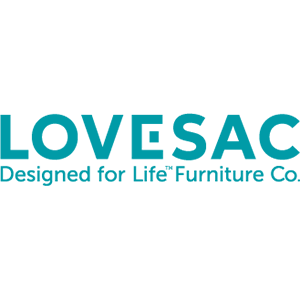 Related Stores
---
---